Maternity & Newborn Photography
My Maternity and Newborn Photography is about capturing your new baby story.
I'm going to try and share as much information about my sessions here as I can, starting with my own experience as a new Mum and how it changed the way I work.
SCROLL DOWN FOR OTHER TOPICS ON THIS PAGE:
Types of session available
The difference between a home and studio shoot
Pricing and packages
How old your baby can be for their first photographs
Contact form to get in touch and online booking details
What I've learnt about Newborn Photography – My Own Experience: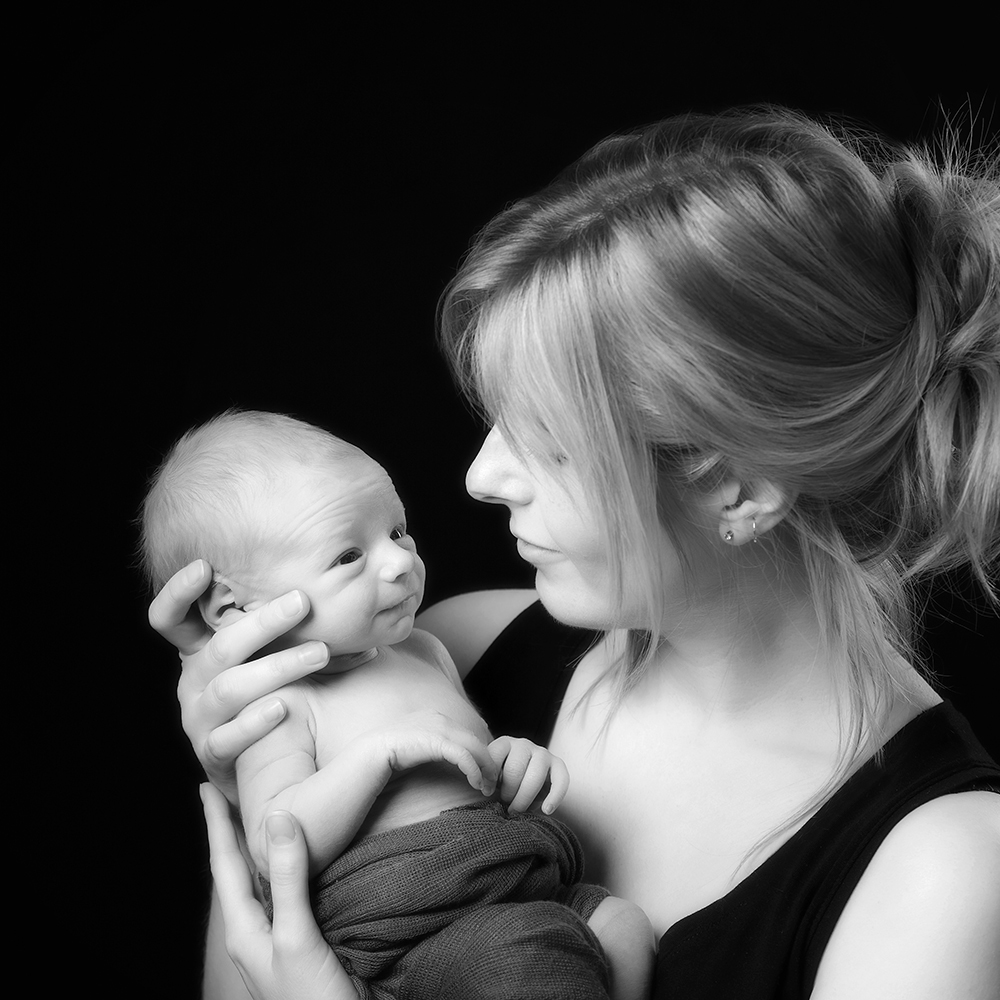 When my Son was born I had been a Baby and Family Photographer for over a decade.
As a new Mum I saw the Newborn Photography experience with fresh eyes and decided to change the way I worked with new parents.
When my Baby was 7 days old we dragged ourselves (and the kitchen sink!) to the Studio and I captured the newborn photographs I wanted for our family. It was worth it, but tough on all three of us.
Since then I have been offering my clients the choice of coming to my Studio for their shoot or having me travel to them, bringing everything we need for a relaxed home shoot.
My Studio is breastfeeding welcome, I'll always offer you a cuppa (when Covid allows) and you can even have a snooze on the sofa whilst I work – this did happen once! I get why!
What Kind Of Sessions Are Available?
Maternity or Bump Session, in the Studio or Outdoors. I recommend booking around 30 to 35 weeks.
Newborn Session in the Studio
Newborn Session in your own Home
Your partner and any older siblings are welcome to take part in any of these sessions and we'll have time to capture a variety of pictures.
I love to capture all the little details of your Baby from their tiny toes to their rosebud lips and gorgeous long eyelashes.
Expect a lovely selection of photographs in a mixture of colour and Black & White.
What's the Difference between a Home and Studio Shoot?
Since introducing my At Home Sessions the response from parents has been amazing. I think the main feedback has been how relaxed the session felt and how personal the photographs were. We're able to take photographs of you all curled up on the sofa together or in Baby's nursery. Particulary where older siblings are involved it's great for them to be able to go off and play with their own toys during the shoot.
Another benefit is having all the things your need for Baby to hand, as well as a change of clothes for yourself (which is sometimes necessary with explosive nappy situations!).
I bring my Newborn beanbag and a selection of blankets with me as well as a battery powered Studio light.
That being said, a lot of parents still like to come to my Studio. Often it's Baby's first adventure out of the house.
My Studio is comfortable and very well equipped with changing table, sofas, kettle etc.
The most important thing is that you have the choice. By looking through my gallery of images you'll get a feel for the style of images you'd like.
Pricing and Packages: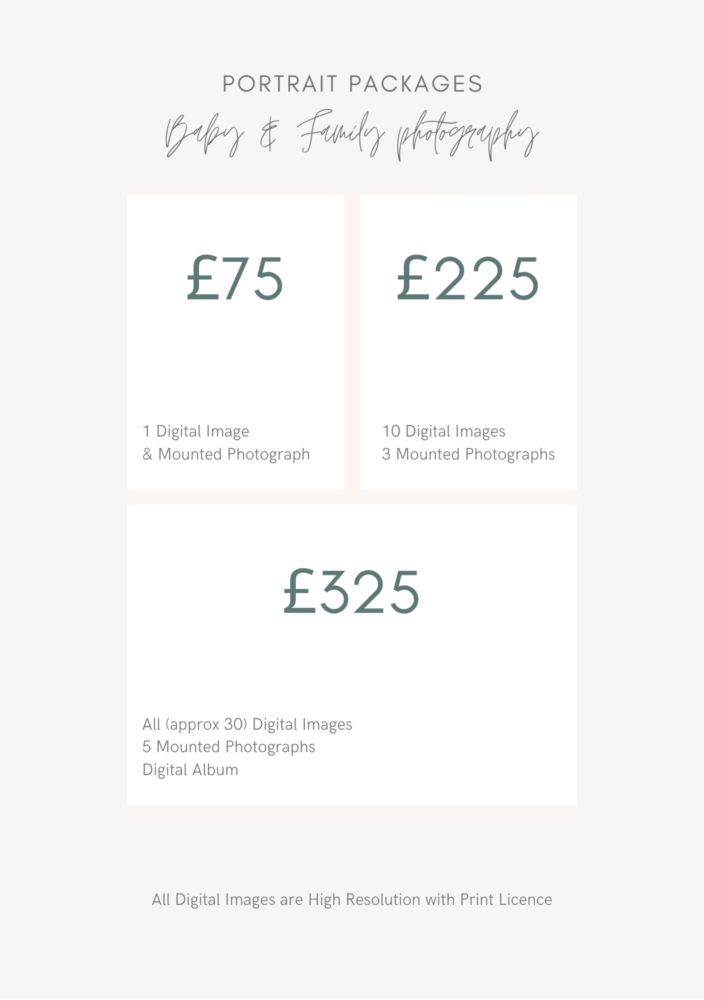 Because my Newborn Sessions allow much more time than any of my other sessions, at least 2 hours, I charge a shoot fee of £50 for these sessions. This is payable at the time of booking. Your photographs are then ordered separately with packages available shown above.
Maternity sessions work like my other sessions with a £30 payment at booking which is then deducted from the balance of your chosen package (see above options) at your viewing.
You can upgrade and add other products if you wish. I have a lovely selection of luxury display products available to see in the Studio including framed photographs, handmade albums and memory boxes. All of these come with your chosen images included as Digital Files.
Here are some examples of the options available: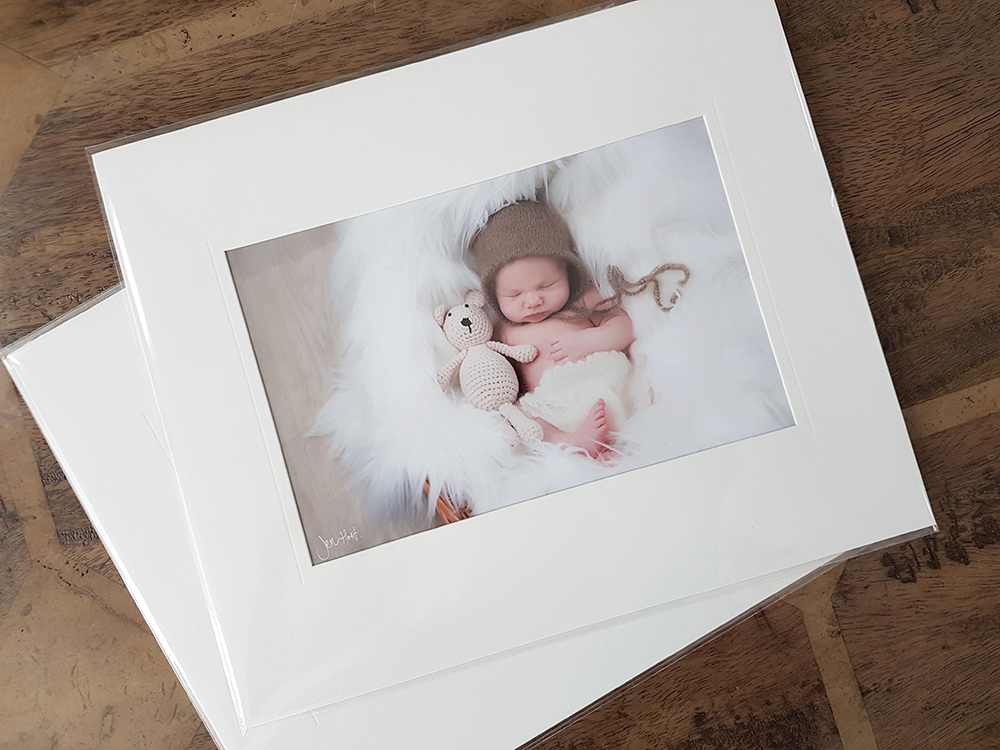 How old should my baby be for their newborn photographs?
It's generally recommend to book your shoot when your Baby is between 7 and 10 days old. This is because they are still in their brand new sleepy stage and more happy to curl up for their posed photographs.
By two weeks your baby will be much more alert and stretching their limbs.
In my opinion and from experience, babies 0-6 weeks are still newborn and we can get amazing tiny baby photographs during this time.
After your baby is born you will be amazed at how quickly they change and they will seem really grown up to you by 6 weeks old. When they are older still you will look back at their 6 week photographs and be amazed by how tiny they look. It really is all relative.
When Baby is 6 to 9 weeks we start to capture their first real smiles.
What I'm trying to say is please don't feel under pressure to get your newborn booked in during the first two weeks, you may not feel up to it and that's ok.
It's never too late to capture your Baby.
As an example, this litte boy was 12 weeks old when I took this photograph, he's still so little!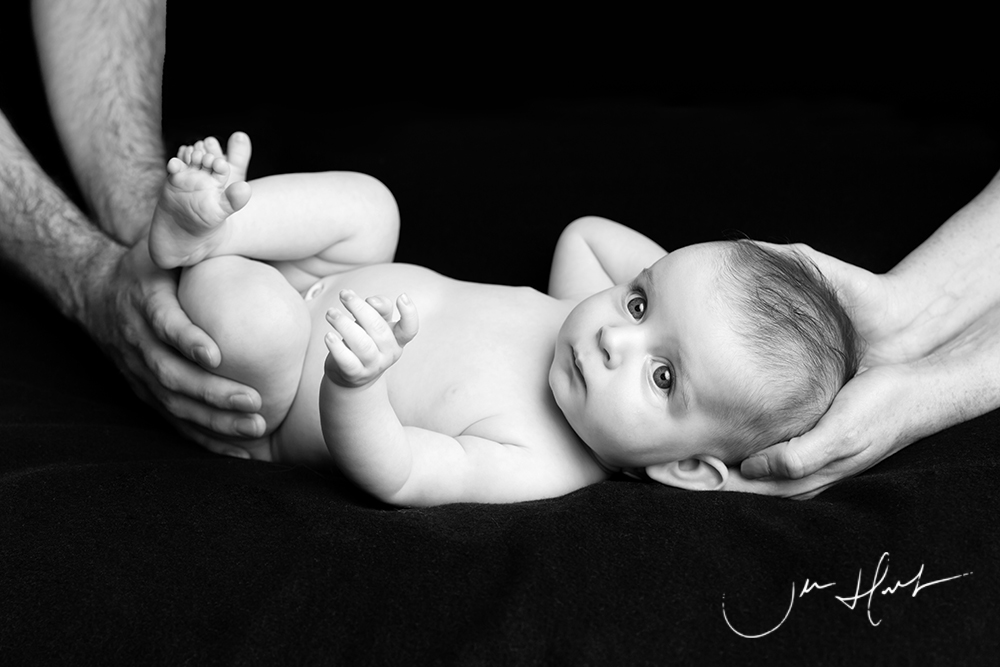 I'd love to hear from you.
You can use the form below to get in touch if you have any questions:
Want to see more of my work?
Ready to Book?
Baby's arrival is always unpredictable however I have found from experience that booking in advance for two weeks after your due date works well. I always leave a bit of wiggle room in the diary in case we need to rearrange.
We loved our photo shoot with Jen when Henry was just 2 weeks old. Jen was so gentle and caring with him and managed to get some gorgeous pictures that we will treasure forever! We didn't think twice about using anyone other than Jen for our Newborn photo shoot after she captured our wedding pictures so beautifully. Henry takes pride of place in our front room and also at my mum's house too! Jen really is one of life's most lovely people and always makes us feel welcome. I love going in to view the photographs for the first time in her studio when she projects them on the wall. Such a lovely experience! – Katie & James Russell